Written by Sheryl Possoff- Antiques Supply, Renningers Adamstown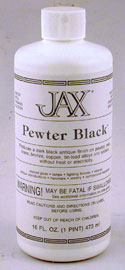 JAX Chemical Company has been manufacturing metal finishing and polishing solutions for over 40 years. JAX Chemicals are used in the lighting, furniture, decorative hardware and stained glass industries. Artisans and craftsmen rely on JAX for restorations, reproductions and current work. Jax is specified by architects and builders for interiors, exteriors and roofs.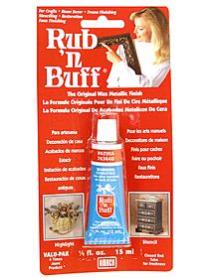 Made from imported carnauba waxes, fine metallic powders, and select pigments, Rub 'n Buff gives almost any surface a new look in minutes. This unique blend gives objects decorated with Rub 'n Buff a finish that no paint can duplicate. It can be applied to any clean, dry surface as well as over previously painted surfaces. One 1/2 oz. tube covers up to 20 square feet. Comes in 20 colors.
Briwax is a formulated blend of soft beeswax and an imported,
hard, waxy emollient from the carnauba palm in South America.
Wood craftsmen around the world have used Briwax to protect,
restore and recondition fine furniture and antiques to their
original "patina" which could only be duplicated by laborious
rubbing.