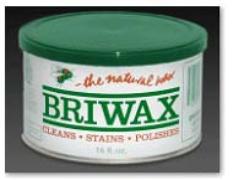 By using Briwax, there is no faster, easier way to color protect wood moldings, spindles, and unpainted furniture..Briwax can also be used to protect metals such as brass,
chrome, copper, and aluminum from tarnishing as quickly as
unprotected metals.and Briwax is available in clear and ten wood colors. The Clear has been specially formulated so that it will not darken the wood,
just enhance the grain. The wood colors enable you to tone-
down or tone-up new wood, as well as, helping to fill-in small
surface scratches and chips in older furniture or priceless
antiques. Inherent cleaning agents in Briwax allow dirt, oil, and
old wax to be dissolved and lifted away, leaving a durable,
lustrous hand-rubbed finish.
Briwax should be applied sparingly with a soft cloth. Allow to
dry, then buff with a clean, lint-free cloth. Once opened, seal
the tin well. Laying a piece of plastic on top of the wax in the tin
before applying the metal lid, helps to keep the air trapped in
the tin from drying the wax..
To learn more about Briwax, please visit Renninger's Antiques
Market, Adamstown Pa-Booths B14 and B24 or contact Len
Possoff at 215-275-0870 or poss71@verizon.net.