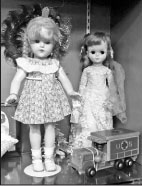 Betty's two booths offer a variety of interesting items, some purchased recently and some purchased through the many years Betty has been in the antiques business. In fact, Betty is the most senior vendor at Renninger's having maintained a booth there for four decades. It is important to remember that Betty offers up fresh merchandise every week so coming inside Renninger's to see what might be new and exciting in her space is a must.
Antique and collectibles shoppers will see quite a variety of items in Betty's expansive location with three aisle exposure. Most recently, dolls, jewelry, trade cards, Christmas items, transfer ware and pinbacks were nicely displayed. Betty has a "good eye" for items with broad appeal and she knows how to merchandise goods so people can easily shop her space.
Toys and postcards are usually on display in Betty's booths. She recently sold a top quality postcard album that would have pleased any serious collector. Betty offers toys that range from lunch boxes to cast metal cars and more.
Betty knows a great deal about transfer ware and her plates are beautifully displayed. Shoppers are drawn to the well lighted cabinet where the designs can really be appreciated. Anyone who doesn't know much about transfer ware but wants to know more should just ask Betty!
One of Betty's particular specialties is dolls. The displayed dolls are all for sale and they are all beautiful. Two of the dolls on display were recently purchased by Betty at an estate auction near Gap, PA. The seller was a well known local woman in her 90s. The dolls were hers, well cared for and still in original clothing. The dolls likely date to the very early 1900s.
Betty's jewelry groupings vary from week to week. She offers some rare bakelite pieces among her attractive and competitively priced jewelry.
A ready smile and an encyclopedic knowledge of antiques and collectibles are available to anyone visiting Betty's stand inside Renninger's. She sells a variety of items and she stresses her effort to offer goods at very reasonable prices. Betty states clearly, "If I make a quality purchase at a very reasonable price, I try to pass the item along to the customer at a good price." Betty is always interested in making a good buy so if a visitor has something that is old or unique, showing it to Betty is a good idea.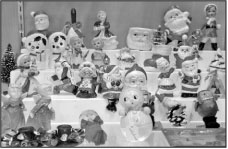 Renninger's is open every Sunday from 7:30am to 4pm. Shoppers can shop inside and outside every Sunday and they'll want to visit the Special Sunday on September 28. During the Special Sunday weekend, the outside is open both days. The inside is open only on Sunday. Meeting Betty Burkhart and shopping her stand is easy, interesting and fun.
Article Contributed by the Lancaster County Shopper and Traveler