Fifteen years ago while organizing a fashion show for "at risk" high school students which would reflect the fashion styles of every decade in Berks County's history, I was faced with a big problem. No one would loan us the hats and dresses from their antique collections for our show. At first I could not understand their reluctance to help out such a worthwhile educational project. . So I had to purchase the outfits and that changed my life. What started out as a small school project quickly changed into an extensive collection of 1000 dresses and hats and an uncontrollable passion to buy samples of the fashions from the 1700's to the present. Every Saturday and Sunday turned into a treasure hunt for me. On a Sunday if you can visit my booths at Renninger's Antique and Flea Market from 7:30 until 4pm or my other store during the week , you will see hundreds of hats and dresses from my collection . And yes, now I understand how fragile antique fabrics are and why people do not want to loan them out. Briefly, I will focus on collecting hats.

Hat collecting is not a new hobby. The Emperor Charlemagne is reported to have loved hats so much that he collected over 500 of them. A new collector can find fabulous hats at local thrift shops, garage sales, auctions, and attics ranging in price from five dollars to five hundred dollars. Norma Shepherd in her book , my favorite reference book, "1000 Hats" states, "Antique hats are unique treasures in the world of collecting in that they are intimately tied to social history ,being fashioned and worn according to such variables as season, time of day , activity and social status and reflect up to the minute style changes. They can stand alone as beautiful sculptural objects or be appreciated for the secrets they tell about the people who wore them." When one purchases a hat, he or she can just imagine what the social status of the original wearer was- what secrets they held. For many collectors, hats represent a happy and tranquil time in their lives. For me, growing up in the fifties I can remember sitting in church and studying all of the hats in the pews ahead of me. The feather, ribbons, and flowers stirred my imagination. My mother and I shopped and shopped for just the right Easter bonnet.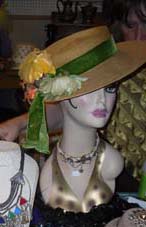 Among the hats in my booths you can find the labels of Schiaparelli, Lilly Dache, Chrisitan Dior, Hattie Carnegie but you can also find civil war bonnets, stage coach hats, cloches,straw bonnets, mens' top hats, bowlers, and fedoras.. During the decline of hat wearing (1970 to 2014), many women and men felt they would be considered strange to wear a hat. But today just look at the Kentucky Derby and the Belmont and you will see a multitude of men and women sporting magnificent hats in grand millinery style. One might wonder who really purchases hats in todays' market. The following categories of buyers visit me regularly on a Sunday:
1. Many men love to wear a hat. Most popular are fedoras, top hats, bowlers, and cowboy hats. One Toronto resident wrote amusingly in the 1800's "My grandfather uses to walk the baby in the park after church on Sundays, storing diapers in his top hat."
2. Renactors of the Civil War and World War two, are often searching for items to complete their outfits plus international buyers from Russia, Japan ,Australia , and England are always searching for bargains in the U.S..
3. Future brides are always looking for head dresses and veils.
4. Car enthusiasts who want to find a hat to match the year of the model of their car.
5. Theatrical groups and movie set designers and tv costume designers are always searching for the correct costume for the time period of their works. Nancy Harper once wrote, "The hat is the last item of costume an actor dons before stepping on the stage. The placement of the hat on the head, the adjustment , and the last look in the mirror is the defining moment ."
6. The Red Hat society
7. Interior designers who may want to cover a whole wall with straw hats with pink rose or some other theme.
As you travel and visit flea markets, antique shops across the land or clean out your family's attics, remember to save the hats. Let your imagination run wild as you study each hat and try to picture the person who wore them – imagine their status , and their hopes, dreams and secrets.
Remember tell your friends and family to visit Renninger's – And as they say, "Don't keep it under your hat."'
Article written by Suzanne Christie of Suzanne Christie Antiques a vendor in Renninger's Adamstown Antiques Market. Open every Sunday 7:30 to 4.