When you walk in the door you will realize that you are in a true farmers market atmosphere. Fresh produce is always available and it only gets better through the season. Beginning in May local products start becoming available. Many of our produce dealers grow their own. Local farmers also supply them with their locally grown fruit and vegetables, many totally organic. August is Pennsylvania Produce Month and the height of the local produce season. In spring you will find vegetable plants and flowers for your own garden. Moving on to the other staples. Our butchers and deli merchants are the best. They carefully select what they put in their display cases to sell. Only the finest will do. Choose from fresh & smoked meats, lunch meats, & cheese.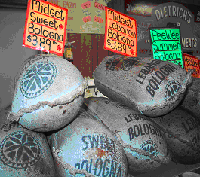 Dietrich's Meats is one of the merchants that does it all. From raising the animals, to processing in to something wonderful for you. Dietrich's is the true Pa. Dutch butcher. Top Quality, naturally grown, meat products and homemade PA Dutch specialties - All naturally grown Beef, Pork, Lamb & Veal - Hickory-smoked Ham, Bacon, German Style Sausage & Bolognas - Fresh & Smoked Chicken, Duck, Geese, Turkey, Pheasant & Rabbit Stop in for a free sample! You will not find anything like it anywhere else. You will find a full line of fresh poultry & eggs from Lancaster, Lebanon and Berks Counties at JN Neidermyer Poultry you can find: - Whole chickens - Legs and Breasts - Cutlets - Turkeys - Turkey Breasts, Legs, Thighs - Turkey Deli Products including Turkey Ring bologna, Turkey Sweet Bologna, Turkey Ham, Smoked breast, and more.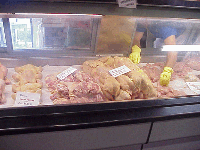 The poultry products at JN Neidermyer Poultry are fresh; they contain no preservatives, no hormones, no artificial ingredients, and no antibiotics. All Chicken & Turkeys are free-roaming. All natural Chicken and Turkey really tastes better! Neidermyer Poultry makes their own turkey burger turkey sausage and chicken burger. New customers always compliment the JN Neidermyer's on the freshness and taste of their products compared to super-market bought products! Mr. Neidermyer started the business in 1934, going to the 69th St. Farmers Market in Philadelphia. The family has been delivering their fresh products to farmer's markets ever since. It is now a third generation family business. What can you find at Hoffman Seafood? Haddock, flounder, clams, crab cakes, fresh open breaded oysters, shrimp, king crab legs, soft shell crabs, lobster tails and far more. Don't forget their well-known specialty: Fresh open breaded clams, a favorite of the long list of regular customers. More: If just looking at the variety makes you hungry, you can relax with a healthy hand-prepared meal right at the stand. A seating area and appetizing side order selection awaits you, including sweet potato sticks (another favorite!), corn fritters, mozzarella sticks, sandwiches, salads, soups... Hoffman Seafood can't be topped when it comes to variety and friendly service. Sherry Hoffman, the stand owner, says it herself: "We are a mom and pop business that considers service to be just as important as quality. We like to think of our customers as our friends."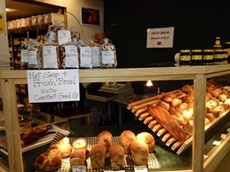 Fresh baked goods , from donuts and pastries to Artisans breads, pies& cakes. You will have a variety of merchants to choose from. The Bread Lady specializes in Artisan breads. Adams Pantry makes breads on the pemises. Plain and Fancy Donuts always has their sticky buns. You will find other homemade items made by the Amish. If you are lucky you will happen upon the community service booth having a bake sale. You can then finish up at one of the candy & snack stands selling potato chips, pretzels, dried fruits & nuts. As is tradition in a farmers market you just have to eat a little something. Hot dogs, hamburgers, steak, sausage, and hoagie sandwiches, broasted and BBQ chicken, fish, pizza or Dutch Fries. Mediterranean food dishes are available for you to enjoy.No time... take out is always available.
Other merchants in the farmers market sell wood stoves, clothing, novelties, crafts, household items, signs, jewelry...you can even buy a home, a tombstone or get a haircut. And be sure to visit Sharon Renninger's Country Meadows store. Customers routinely remark it is the best they ever shopped. Renninger's Farmers Market located at 740 Noble St. Kutztown is open every Friday 10 AM to 7 PM & Saturdays 8 AM to 4 PM. For more information call 610 683 6848 or like Renninger's Facebook page at www.facebook.com/RenningersKutztown.