Friday, 01 July 2016 13:10
The Great Outdoors Jam at Renninger's Mount Dora this Weekend.
Written by James Renninger Jr.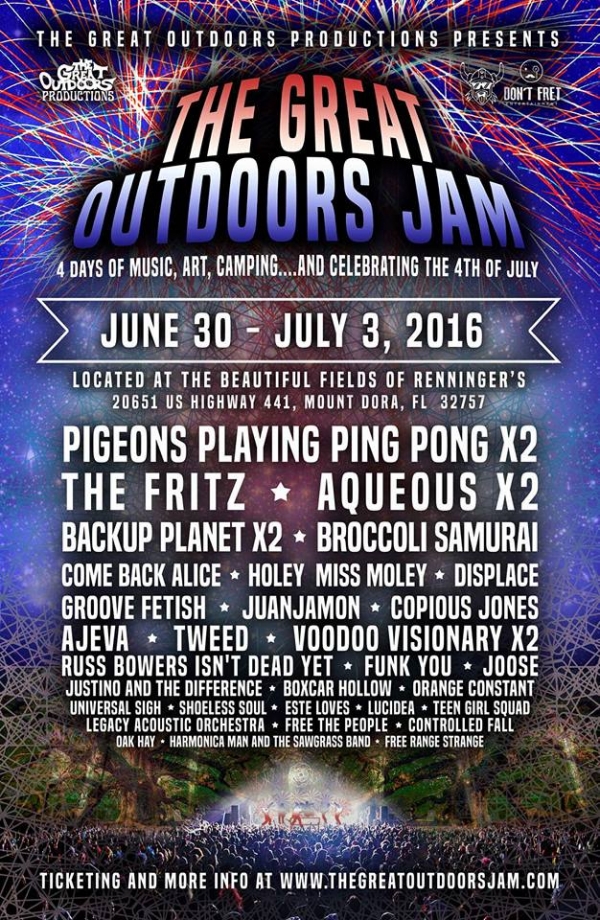 more information visit www.thegreatoutdoorsjam.com
The Third Annual Great Outdoors Jam Presented by The Great Outdoors Productions, and Don't Fret Entertainment

June 30th - July 3rd, 2016
The Beautiful Fields of Renninger's
20651 US Highway 441, Mount Dora, FL 32757

Gates Open June 30th at 12pm

4 DAYS, 2 STAGES, MUSIC, ARTS, INSTALLMENTS, DISC GOLF, WORKSHOPS, CAMPFIRE JAMS, PLUS MUCH MUCH MORE!!

This is a "bring your own cooler to the stage" event, we will NOT be selling Alcohol of any kind! Come prepared…. And please NO GLASS!!

We will have many food and merchandise venders here set up for your shopping pleasure!
There is ATM on site and also an Ice / Firewood Vender set up
We will be providing a FIREWORK SHOW (NO OUTSIDE FIREWORKS), Family/Quiet Camping Area, a small "Just for fun" mobile Disc golf course, Art Gallery, Workshop and Yoga Area, Art Installations, Fire Poi Performers and much much more!
The Beautiful Fields at Mount Dora is fully equipped with Outdoor showers to wash off whenever, we will have many port-o-johns. We will also have numerous fan/misting stations, sprinklers to help beat the heat. We will also have shaded Parachute Tent and Tarp Areas with comfortable HOMETEAM style seating to relax and stay out
Stuff to bring:
• SMILES
• GOOD VIBES
• Sunglasses and Sunscreen
• Water guns, Bubbles
• Musical Instruments-Guitars, Violins, Banjos, Drums, etc....
• Canopies
• Tents
• Chairs
• Coolers
• Food and Drink
• Cameras
• Face Paint
• Water

Stuff Not to Bring
• No Glass
• No Outside Fireworks
• No Weapons of ANY kind
• No Illegal Substances
• No Bad Attitudes
• No Animals of any kind (NONE)
• No Golf Carts/ATVs/ or motorized vehicles allowed within the Ranch
• No Ground fires, (raised fire pits and grills are ok)

Music Performances:
Music is performed on two different stages, going late into the night. After the stages shut down, we will switch to the silent disco / acoustic jams and go till sun up for the all nighters!
PIGEONS PLAYING PING PONG X2 | AQUEOUS | BROCOLLI SAMURAI | COME BACK ALICE | HOLEY MISS MOLEY | ALIVER HALL BAND | DISPLACE | JUANJAMON BAND | COPIOUS JONES | AJEVA | TWEED | RUSS BOWERS ISN'T DEAD YET | VOODOO VISIONARY | ESTE LOVES | JUSTINO AND THE DIFFERENCE | BOXCAR HOLLOW | LUCIDEA | MORE TBA
Renninger's Promotions
Contributor for Renningers.com
Based in Kutztown, PA
Write a comment...