Jim Neidermyer's Poultry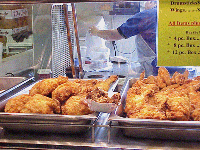 Eggs and poultry are fresh, they contain no preservatives, no hormones, no artificial ingredients, and no anti-biotics. All Chicken & Turkeys are free-roaming. All natural Chicken and Turkey really tastes better! Niedermyer Poultry makes their own turkey burger turkey sausage and chicken burger. New customers always compliment the Niedermyers on theneid4 freshness and taste of their products compared to super-market bought products! Mr. Niedermyer started the business in 1934, going to the 69th st. Farmers market in Philadelphia. The family has been delivering their fresh products to farmer's markets ever since. It is now a third generation family business.
Take home a delicious Barbeque chicken or broasted chicken for dinner tonight.